Wire Repairs From The Pros In Rosyln Estates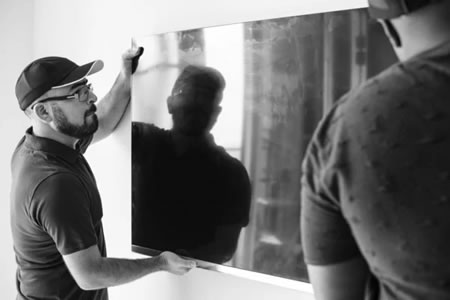 When it comes to wire repairs in Roslyn Estates, Wireman Cableman is the trusted choice. Our team of skilled professionals has years of experience in handling all types of wire-related issues, from electrical wiring problems to coaxial cable repairs. We understand the importance of reliable and safe electrical connections in your home or business, and we are committed to providing top-quality wire repair services.
At Wireman Cableman, we utilize state-of-the-art tools and techniques to diagnose and repair wire problems efficiently. We prioritize your safety and satisfaction, ensuring that all repairs are executed with precision and attention to detail. You can trust our experts to deliver exceptional results, restoring the functionality of your electrical systems.
Choose Wireman Cableman for all your wire repair needs in Roslyn Estates. Our professionalism, expertise, and dedication to customer satisfaction set us apart as the go-to wire repair company in the area.
Get Safe Flat TV Mounting For Your Roslyn Estates Home
Ensure safe and secure flat TV mounting in your Roslyn Estates home with Wireman Cableman. Our team of professionals understands the importance of a proper TV installation that not only enhances your viewing experience but also ensures the safety of your TV and the aesthetics of your space.
At Wireman Cableman, we have the expertise to handle flat TV mounting with precision and care. We assess your walls, recommend the most suitable mounting brackets, and ensure secure installation. Our team pays attention to cable management, ensuring a clean and organized look for your home.
With our commitment to customer satisfaction, you can trust Wireman Cableman for safe flat TV mounting services in Roslyn Estates. Enjoy a seamless and immersive entertainment experience in the comfort of your home, knowing that your TV is securely mounted by professionals.
Computer Networking Excellence In Roslyn Estates
Wireman Cableman offers computer networking excellence in Roslyn Estates. Whether you need assistance with setting up a home network or require advanced networking solutions for your business, our team of experts has you covered.
At Wireman Cableman, we understand the importance of reliable and efficient computer networking. We have the knowledge and experience to design and implement networks that meet your specific needs. From setting up routers and access points to configuring switches and ensuring seamless connectivity, our professionals deliver excellence in every aspect of computer networking.
We prioritize customer satisfaction and offer personalized solutions tailored to your requirements. With our expertise and attention to detail, you can trust Wireman Cableman to provide reliable and robust computer networking services in Roslyn Estates. Experience seamless connectivity and enhanced productivity with our top-quality networking solutions.