Technical Issues Are No Issue thanks to Our Troubleshooting Work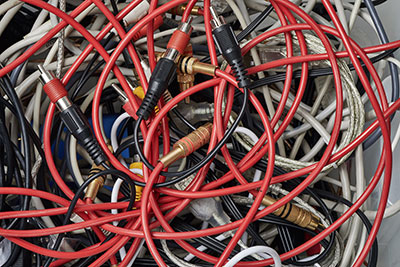 Nothing is as frustrating as technical issues. Without warning, these issues could leave you without the use of your oftentimes necessary equipment, so when they arise, you'll want to schedule troubleshooting work with a professional in the Long Island area. Advice from an experienced professional will prove to be just the thing to get your devices back in proper working order in no time:
Smart TVs
Sound systems
Cable modems
Satellite systems
Security cameras
And more
If you're in the market for troubleshooting services from a dependable team, you need to look to the professionals at Wireman Cableman first and only. We've been in the electronics game for many years, and that experience is reflected in the quickness and quality of our troubleshooting work. Don't let problematic electronics stress you; give our troubleshooting professionals a call instead, and we'll have them working like new.
Don't Delay: Call Us at the First Sign of Technical Issues
Technical issues can start as a minor headache and quickly develop into serious, even device-ruining headaches. So, as soon as an issue arises—even if it seems relatively harmless—call us at once. With troubleshooting, we'll quickly resolve the issue and prevent further, potentially more problematic ones from arising.
Reasons to Leave Your Troubleshooting Work in Our Dependable Hands
When technical issues arise, you may feel inclined to tackle them yourself. After all, with the wealth of information available at the touch of a button, anyone can find the answers they need and save a buck by addressing those issues.
Of course, you'd be able to do that only if you knew exactly what the problem was and to know that, you'd need a certain level of experience and training—which we have. So, when technical issues arise, look to us for our troubleshooting work, and you'll enjoy these great benefits:
We'll get to the root of the problem in a timely manner
You won't have to endure the stress and time commitment required to resolve issues on your own
You'll avoid causing further issues by applying the wrong solution
Your important devices will be back in usable order ASAP
Residential Repairs
Maybe rodents are chewing through your lines or possibly poor wiring. You depend on your devices to work in the home as you always should. No matter what type of problems you are experiencing; you can always come to Wireman Cableman.
Common problems:
Lightning strikes
Rodents
Poor wiring
Quality Work from Our Long Island Troubleshooting Specialists
From smart TVs to satellite dishes and everything else, our Long Island team has the experience and the know-how to provide the right troubleshooting work when you need it. Problematic devices can bring your life to a standstill until the issue gets resolved, and by coming to us, you're guaranteed a quick and dependable resolution. Give us a call today if you're in need of any troubleshooting work.
Recent Articles
What to Consider Before Installing Telephone Wire – New York Wiring
Some people are building a new home and a New York telephone is needed. Since these phones are new and you haven't had any telephones in your home before, you will have to get wiring done. You might […]
New York Telephone Jack Installation
Installation of telephone lines should match your requirements. Quality of service and reliability are the most important factors to be considered. Other than that lead times and installation, price […]