Amazing Flat TV Mounting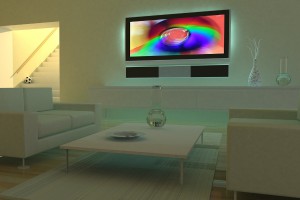 If you are considering purchasing a flat-panel LCD screen TV, then you should also be considering flat TV mounting for it. Mounting it onto the wall will eliminate the barrage of wiring that TV's tend to leave behind as well as open up more space. Your rooms will look trendy and chic with television mounting done by Wireman Cableman. A majority of people start off with placing their televisions on a stand with the high hopes of mounting it on their walls later. If you're in that stage of your life that you're ready to upgrade; call us today.
Placement
It is very important to think about where your flat or plasma screen TV will be placed. It will need to be placed in relation to your related equipment such as the cable or satellite box as well as surround system, DVD player and game console.
Safety
We perform our mounting projects safely for the homeowner because we know how dangerous working with wiring can be. Although we work with low-voltage wiring systems; projects still need to be completed by professionals.
Many installations get done haphazardly and wind up costing the homeowner more than they intended to pay in the first place. If you're looking to save a few dollars in Long Island, then hire Wireman Cableman for the mounting job and prevent your TV and related devices from failing you.
Planning
You don't just install a TV onto a wall without careful planning. We take into consideration all of the problems that can happen and go over them before the installation. A handyman from Wireman Cableman will get the job done professionally and in a timeframe you need it to be done.
The following considerations are made in the planning stages:
Hiding wires
Safety
Viewing locations
Placement of equipment
How to Choose a Mount
Choosing a TV mount for your flat or plasmas screen is not as easy as you'd think that it would be. Making the right decision about which TV mount you purchase is about how you actually are going to use the television, in which room and size.
Factors:
Cost
Placement
Size of TV
Equipment
Size & Weight
Check carefully, before buying a new television this season, for the weight and size. It will be mounted onto your walls and if it cannot hold the weight; you're going to be majorly disappointed. For the right type of mount and flat TV mounting; you can always count on Wireman Cableman to get the job done right.
Recent Articles
3 Types of TV Wall Mounting Brackets For Your Long Island Flat Screen
If you would like to mount your flatscreen TV to a wall, you will need to purchase a Long Island TV wall mounting bracket. There is a little bit to know about the types of TV wall mounting brackets, […]
Flat Panel TV Mount Guide for Your Queens Home
Did you just buy a new Plasma, LCD, or Flat Panel TV? Are you wondering how to hang the Queens TV correctly? Where should I place the TV? Do you mount it to a wall or above the fireplace? LCD and Pla […]
Recent Reviews
Wireman Cableman is Rated: 4 / 5
based on this 1 happy customer review.
---
"We were extremely pleased at the work done at our club house in Plymouth Estates at Mt. Sinai. We needed major cabling, rewiring, tv mounting over a brick fire place, sound system, dvd player all with major components that needed to be integrated in a cabinet 75 feet away, with all wiring concealed. We would recommend Dave Wireman for his knowledge and quality of workmanship."
---