Superior Wire Repairs You Can Trust In Lawrence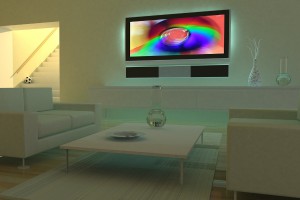 When you want high-quality wire repair services in the Lawrence area, reach out to the expert team at Wireman Cableman. Our exceptional services and high-quality products are what makes us the area's top choice for all kinds of electrical services, including:
Soundbars
Smart TVs
Data processing
Converter Boxes
And so much more
As technology grows and changes with each year that passes, we want to educate our clients about their options when it comes to the systems they use in their homes. Communication and entertainment can be as easy as a few clicks when you work with Wireman Cableman. Just give us a call when you're ready to work with a wire repair professional that cares about your satisfaction.
Reliable Flat TV Mounting From Any Room In Your Lawrence Home
If you need help mounting your new flat screen TV in Lawrence, the name to call for high-quality service is Wireman Cableman. Our main goal as a wire repair expert is to help homeowners improve the way they enjoy entertainment, and this includes television. Having a wall-mounted TV can seem like a daunting task, but with the expertise of our team, it can happen in no time, and you'll be able to enjoy benefits like:
Frees up space
Hides cables and wires
Reduces room clutter
Keeps your TV safe
We'll mount your television in any room of your home, from your kitchen to even the back porch. We know how to find wall studs to ensure a secure mount so your TV can always be ready for use. Call Wireman Cableman today to schedule your flat TV mounting service and see just how easy it can be to enjoy your TV.
Utilize Smartboards In Lawrence With The Help Of Wireman Cableman
If you've spent any time in a school, business meeting, or commercial business setting, you may have seen or used a smartboard. Smartboards are essentially interactive whiteboards connected to a computer, letting the user change and manipulate what shows up on the board with the touch of a finger. Smartboards are a relatively new piece of technology that is perfect for use in classrooms and meeting rooms, so much information can be communicated to many people. Wireman Cableman is proud to install smartboards in the Lawrence area. We'll be able to mount and connect your smartboard for easy use and help you troubleshoot any issues you run into down the road. Our name is the one to trust when you need a reliable company to help you with your smartboard installations.