Getting the Best Surround Sound System
When trying to find the best in a stereo surround sound system; it's always best that you shop around. There are a lot of great options that will help you maximize the volume for better control of your system making it feel as though you brought the movies into your living room.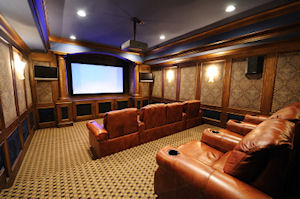 Listening to music can also be enhanced through one of these systems. Normally, a radio or basic stereo system has smaller speakers that are only one-dimensional. The sound is often hindered too. When you have determined that you want a surround system installed in your home; there are a few things that you will need to consider:
Budget is everything when it comes to getting something new for the home. We often find ourselves limited with choice whenever we actually see the budget that we have to work with. Surround systems can get very expensive in Brooklyn.
In order to get the best one for your money; you need to figure out how much you are willing to spend vs. the cost to install one professionally. This way you are far less likely to overspend. Research your options too for the best system.
Area is the next thing that needs to be considered whenever it comes to buying a surround system. If you have a large area that it will be installed in; then you are going to need extension wires in order for speaker placement throughout the home.
What kind of features are you looking for? Do you want movie theater sound or just to be able to filter your record player through the system? A professional will be able to outfit your rooms with the best wires and speakers for any of your needs.
The last thing to remember is the type of system that you want. What is it that you are wanting from your system? As we mentioned earlier; many want them for movie theater style sound as others just want them to personify the sound coming from their devices such h as a record player or video game system.
Once you have gathered all the information you can about a surround system; you'll need to start thinking about devices that are hooked up to it.
Devices:
Game systems
Blue-Ray players
DVD
Make sure that your system of choice can handle all of your devices. And if you need professional installation; please trust the crew from Wireman Cableman. We have a handyman available for your stereo surround sound system as we do installations, rewires and repairs.